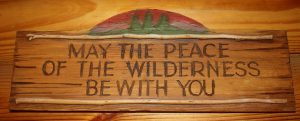 The TIPI at Wilderness Lodge!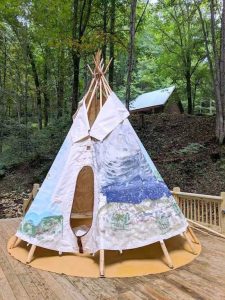 Teepee at Wilderness Lodge
The 14′ diameter tipi has been painted by Joy Poole an accomplished local artist.
She painted the exterior with themes capturing the surroundings of the mountains.
A local carpenter Dan Beckwith with years of experience and attention to detail
has built a spacious deck (24′ x 28′)
where the tipi is placed… alongside the creek.

<>  <>  <>  <>  <>  <>  <>  <>  <>  <>  <>  <>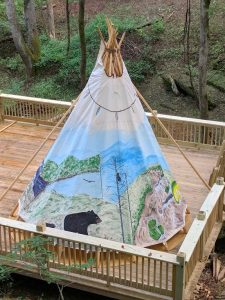 NOTE from December 2018:  I sat in the tipi for a while yesterday. 
It was a relaxing experience listening to the stream flowing nearby. 
Seemed like I was a world away from everyone!
Susan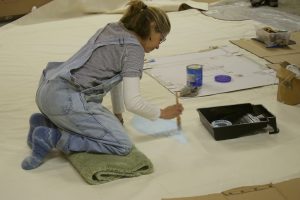 The tipi will be available for use by registered guests only
&
 privately situated by the creek yet can be seen from the house. 
WHAT'S INCLUDED in the TIPI?
two cots
lighting (camping style lanterns)
WHAT DO YOU NEED TO BRING?
sleeping bags
blanket (nights can be cool)
pillows

WHAT OTHER AMENITIES ARE NEAR THE TIPI?
campfire – COMING SOON ! (firewood included)
picnic table- (plastic dishes/glasses are available in the house or apartment)
WHAT IS THE COST?
There is no additional charge at this time for the use of the tipi when renting the log home or studio apartment.
CLICK HERE FOR RATES
<>   <>   <>  <>  <>  <>  <>  <>  <>  <>  <>  
It's already an adventure in the wilderness at Wilderness Lodge…
we're just adding to the experience!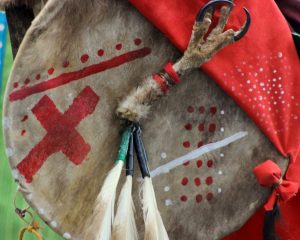 Music:
Invoking the Elements– Peter Kater & R. Carlos Nakai