You'll find lots of recreational activities and attractions in the
Blue Ridge Mountains in Hot Springs North Carolina including:
hiking, rafting, fishing, sightseeing, and festivals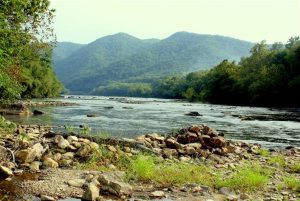 The Hot Springs area is popular for many outdoor activities:
hiking– Appalachian Trail passes through town, and is also
accessible at Max Patch Bald
rafting–  several rafting companies host rafting trips on the French Broad River
fishing–  many streams are stocked with trout including Spring Creek which is a mile from Wilderness Lodge.
Other fishing options are the French Broad River, and Laurel River near Hot Springs. 
sightseeing–  the mountains are scenic, and rich with history.
Just driving and stopping at various scenic spots can be an enjoyable day.
You might even see a bear like the one shown below that was across from my home!
geocaching– a treasure hunt like adventure
These are the events scheduled in Hot Springs for 2017:
April 1st – Oct. 28 on Saturday 10am -2pm Hot Springs Homegrown & Handmade market- on the lawn of Alpine Court
April 22, Saturday: Community Trailfest;  Next to the post office. Sponsored by Hot Springs Community Learning Center
May 3 – 5, Thur – Sun. :  French Broad River Festival;  Sponsored by frenchbroadriverfestival.com
May 20, Saturday; Vintage BMW Gathering
June 10, Saturday; Bluff Mountain Music Festival; Supported by Madison County Arts Council
June 23 – 25, Fri – Sun.: Concerned Bikers Association Rally; Sponsored by CBA
July 1, Saturday:  Independence Day Fireworks; In support of Hot Springs Fire Department
July 13 – 16 Thur – Sunday:  Wild Goose Festival; Sponsored by wildgoosefestival.org 
Aug 21, Monday:  Total Solar Eclipse; Rare event visible from this area
Sep 16, Saturday:  German Internment Camp Centennial;  More details to come…
Sep 22 & 23, Saturday/Sunday:  Deep Water Soul Festival;
Featuring: Pierce Eden, Ashley Heath, Pleasure Chest & more
Nov 3 – 5, Fri – Sun. :  Skirmish at Warm Springs Encampment;  Sponsored by NC2MI.org CANCELLED 
Dec 2, Saturday:  Christmas Parade: Sponsored by the Town of Hot Springs
Other attractions and activities that you may consider while staying at
Wilderness Lodge include:
Biltmore Estate/Asheville
Largest privately owned home in the U.S.
Cherokee Reservation & Harrah's Casino/Cherokee
Native American reservation with shops, and activities; casino
www.visitcherokeenc.com

Horseback riding in Madison County
Sandy Bottom Trail Rides
Great Smoky Mountain Railroad
Day trips through the scenic mountains
Blue Ridge Parkway
Drive- enjoy the scenery,  stop- hike, dine- at the Pisgah Inn
Hot Springs Spas
Maybe after a day of hiking a soak in a hot tub
of naturally heated spring water would be soothing, or maybe a massage!
~ Reservations on weekends & holidays shouldb be booked 2 weeks in advance ~
Fowler Farms Sporting Clays
Clay shooting in Spring Creek. Fun for the experienced or novice shooter.
www.fowlerfarmssportingclays.com
Split Mountain Quail & Preserve
Quail hunting in Spring Creek; seasonal
www.splitmtnquailandpreserve.com
~ Brochure for activities, attractions, restaurants are available at Wilderness Lodge ~
Music/sound effect:
Nature Sounds/Easy Listening