AREA ACTIVITIES
You'll find lots of recreational activities and attractions around the
Blue Ridge Mountains in Hot Springs North Carolina including:
hiking, rafting, fishing, sightseeing, and festivals.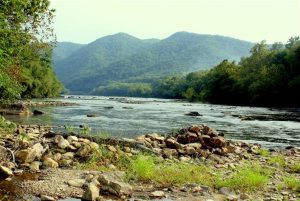 French Broad River
The Hot Springs area is popular for many outdoor activities:
Hiking- Appalachian Trail passes through town, and is also
accessible at Max Patch Bald
Rafting-  several rafting companies host rafting trips on the French Broad River
Fishing-  many streams are stocked with trout including Spring Creek which is a mile from Wilderness Lodge.
Other fishing options are the French Broad River, and Laurel River near Hot Springs. 
Sightseeing-  the mountains are scenic, and rich with history.
Just driving and stopping at various scenic spots can be an enjoyable day.
You might even see a bear like the one shown below that was across from my home!
Geocaching– a treasure hunt-like adventure
Other attractions and activities that you may want to consider while staying at
Wilderness Lodge include:
Biltmore Estate/Asheville
Largest privately owned home in the U.S.
Cherokee Reservation & Harrah's Casino/Cherokee
Native American reservation with shops, and activities; casino
www.visitcherokeenc.com

Horseback riding in Madison County
Sandy Bottom Trail Rides
Great Smoky Mountain Railroad
Day trips through the scenic mountains
Blue Ridge Parkway
Drive- enjoy the scenery,  stop- hike, dine- at the Pisgah Inn
Hot Springs Spas
Maybe after a day of hiking a soak in a hot tub
of naturally heated spring water would be soothing, or maybe a massage!
~ Reservations on weekends, holidays,spring & summer should be booked 2 weeks in advance ~
River Rafting
Whitewater Rafting and River Tubing guided or unguided tours of French Broad River.  Located in Downtown Hot Springs.
https://hotspringsraftingco.com/
Fowler Farms Sporting Clays
Clay shooting in Spring Creek. Fun for the experienced or novice shooter.
www.fowlerfarmssportingclays.com
Split Mountain Quail & Preserve
Quail hunting in Spring Creek; seasonal
www.splitmtnquailandpreserve.com
~ Brochure for activities, attractions, restaurants are available at Wilderness Lodge ~
Music/sound effect:
Nature Sounds- Easy Listening