You'll find lots of recreational activities and attractions around the
Blue Ridge Mountains in Hot Springs North Carolina including:
hiking, rafting, fishing, sightseeing, and festivals.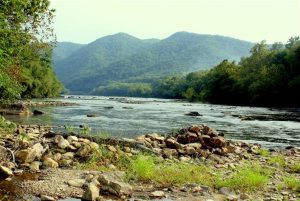 French Broad River
The Hot Springs area is popular for many outdoor activities:
Hiking- Appalachian Trail passes through town, and is also accessible at Max Patch Bald.  All Trails is a great website and app that can provide you with detailed trail descriptions of public hiking trails.  All Trails Link.
Rafting-  several rafting companies host rafting trips on the French Broad River
Fishing-  many streams are stocked with trout including Spring Creek which is a mile from Wilderness Lodge.
Other fishing options are the French Broad River, and Laurel River near Hot Springs. 
Sightseeing-  the mountains are scenic, and rich with history.
Just driving and stopping at various scenic spots can be an enjoyable day.
You might even see a bear like the one shown below that was across from my home!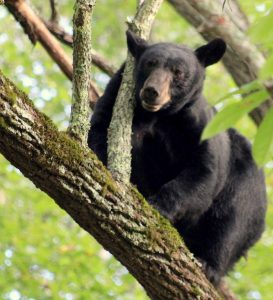 Other attractions and activities that you may want to consider while staying at
Wilderness Lodge include:
Biltmore Estate/Asheville
Largest privately owned home in the U.S.
Cherokee Reservation & Harrah's Casino/Cherokee
Native American reservation with shops, and activities; casino
www.visitcherokeenc.com

Horseback riding in Madison County
Sandy Bottom Trail Rides
Visit the Elk of Cataloochee Valley, Great Smoky Mountains National Park
The best times to view elk are usually early morning and late evening. Elk may also be active on cloudy summer days and before or after storms.  From Wilderness Lodge, it takes about 1 hour, 15 minutes to drive to the area of the park were the elk are most active.
https://www.nps.gov/grsm/learn/nature/elk.htm
Great Smoky Mountain Railroad
Day trips through the scenic mountains
Blue Ridge Parkway
Drive and enjoy the scenery or stop and hike.  End the day with dinner at the Pisgah Inn
Hot Springs Spas
Maybe after a day of hiking a soak in a hot tub
of naturally heated spring water would be soothing, or maybe a massage!
~ Reservations on weekends, holidays, spring & summer should be booked 2 weeks in advance ~
River Rafting
Whitewater Rafting and River Tubing guided or unguided tours of French Broad River.  Located in Downtown Hot Springs.
https://hotspringsraftingco.com/
Fowler Farms Sporting Clays
Clay shooting in Spring Creek. Fun for the experienced or novice shooter.
www.fowlerfarmssportingclays.com
Split Mountain Quail & Preserve
Quail hunting in Spring Creek; seasonal
www.splitmtnquailandpreserve.com
Wolf Ridge Ski Resort
Skiing, snowboarding and snow tubing in Mars Hill, just north of Asheville.
Cataloochee Ski Area
Skiing, snowboarding and snow tubing in Maggie Valley, near Waynesville.
~ Brochures for activities, attractions, restaurants are available at Wilderness Lodge ~